The FAST Pathways Skills Academy
How many people do you know who eat their 5 a day, every day? We all know we should, but we don't always do what's good for us. And the same applies to looking after our mental wellbeing. Most approaches rely on doing something differently, consistently enough to maintain the results. So those results can be patchy.
FAST Pathways is different. This powerful programmes of skills doesn't rely on changing behaviours to deliver lasting results. Effective wellbeing's so much more than just avoiding mental ill-health – it underpins almost every aspect of performance. People are the heart and soul of every thriving organisation, and we like them to thrive too.
Successful organisations equip their people with the skills to do their role well. But one of the most powerful, flexible skills your people can develop is often overlooked or taken for granted. Their ability to deal with uncertainty and adversity. We ask our trainees to think of something which stresses them, and score how it feels. After training they score again - the average discomfort halves

How often have you learned something new, but didn't use it right away? By the time you really needed it, you might have forgotten how to do it well. Our library of on-line resources gives our learners 24-7 access to step-by-step guidance to a range of powerful techniques, so they can refresh and add to their skills when they'll have most impact. And as most of the skills take around 10 minutes to learn, there's no need to invest lots of time or practice to achieve breakthrough results.
Pathfinder Access

Designed to embed the skills with the broadest impact, to support better sleep, concentration, problem-solving and flexibility. The skills are chosen to help bring (and keep) the system off high-alert, increasing the ability to deal with the most common day to day stresses more smoothly.

Navigator Access

Builds on the Pathfinder skills, including ways to neutralise disruptive emotions like fear and frustration, to reduce the experience of overload, to improve both confidence and willpower, and to prepare effectively for challenging events and conversations. This access level is most appropriate for adapting to change (workplace or personal), and for those in front-line leadership roles.

Trailblazer Access

Includes access to the entire library of skills resources, webinars and master classes. In addition to the outcomes above, it's designed to help resolve overwhelm, build lasting resourcefulness and resilience, and equip delegates to resolve entrenched conflict, and smoothly deliver step change (their own, or within the organisation). This access level is best suited to those in or developing towards leadership or high-pressure roles, who've previously experienced mental ill-health, or who are experiencing significant change.
| | | | |
| --- | --- | --- | --- |
| Access Levels at a Glance | Pathfinder | Navigator | Trailblazer |
| Number of skills | 5 | 10 | 35 |
| Learner-optional online master classes | 5 x 15min | 4 x 30min | 6 x 30min |
| Online Deep-dive master classes | --- | --- | 4 x 1h |
| Recommended delivery duration | 1 - 2 weeks | 4 weeks | 10 weeks |
| Learner time commitment | 2.5 hours in total | 1h per week | 2.5h per week |
To explore how the FAST Pathways skills work, and how they're different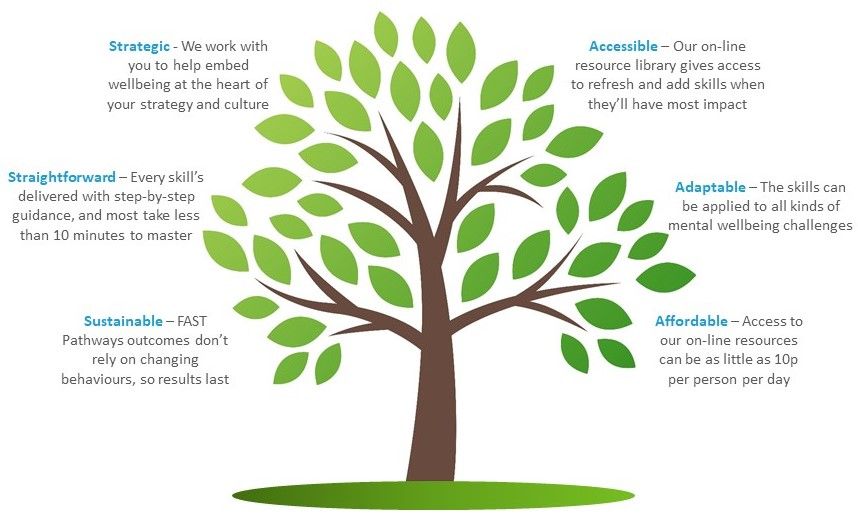 Download an information pack