Thanks for Registering - We'll Set Up Your Access
Welcome! Over the coming weeks I'm going to share with you some enticingly simple ways to change your thinking, to keep more of your stresses useful and get more of life as you want of it.
Imagine how different it could be if you didn't give yourself a hard time. If you didn't keep worrying about stuff that'll probably never happen. If you didn't replay the things which went badly, picking it over, and feeling uuuurgh all over again. If you didn't create obstacles, or keep putting things off. If you never felt overwhelmed by what's expected of you. If instead of getting hung up with the frustrations, worries and upsets, you claimed that time for the things which deserve it.
It's not as impossible (or even as difficult) as it might seem
Each week, I'll send you a new skill by email, to the address which you entered to register. If you'd like receive these emails to a different address, there's a link on the bottom of each email to update your preferences.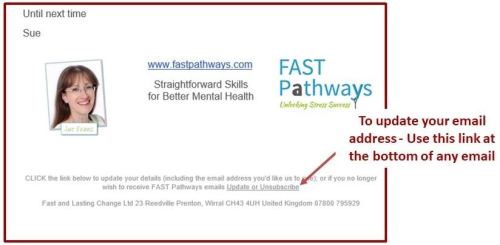 In the next few days, you'll also receive your Log-in details for the Membership area, so you can access any of the skills whenever you like
Please make sure that you email account is set to allow messages from [email protected] (I wouldn't like it all to get stuck in Spam filters!)
So check your inbox for the first email, and dive right in!