Thanks for Registering - We'll Set Up Your Access
Welcome! Over the coming weeks I'm going to share with you some enticingly simple ways to change your thinking, to keep more of your stresses useful and improve your general Mental Health
Each week, I'll send you an exercise by email, to the address which you entered to register. If you'd like receive these emails to a different address, there's a link on the bottom of every email to update your preferences.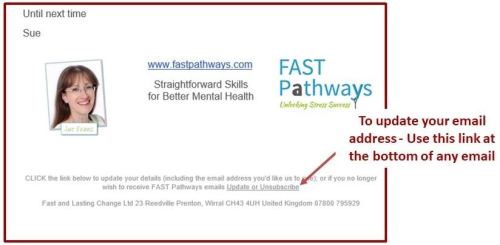 In the next few days, you'll also receive your Log-in details for the Membership area, so you can access any of the course content whenever you like
Please make sure that you email account is set to allow messages from [email protected] (I wouldn't like it all to get stuck in Spam filters!)
So check your inbox for the first email, and dive right in!